This is the real challenge of our times for an increasing number of companies. Philips, which is famous for selling light as a service, announced that 60% of its total 2017 revenues were from "green activities". 1
The Swedish clothing giant H&M, that has more than 3 500 retail outlets in 55 countries around the world, plans to be 100% circular by 20302. Meanwhile, McKinsey & Company calculated that the adoption of the circular economy principles can generate annual revenues of 600 billion EUR from 2030 onwards3.
The principles of the circular economy are relatively clear and logical. The business potential is immense, so what is the problem?
In cooperation with our innovation agency's partner, the Institute for the Circular Economy (INCIEN), we have examined these barriers in the Circular Czechia study, and identified four main barriers: cultural, market, technological and regulatory.
What characterises these barriers, and how can we overcome them?
Cultural barriers, or nobody likes changes
Cultural barriers may appear on the side of consumers and on the side of companies. Companies believe that consumers are not that interested in ecologically conscious products and services, because they are great traditionalists: Czech consumers are often used to buying familiar, time-tested brands.
Company employees are not very prone to contribute to a change that would take the their company towards ecological business. On top of that, the theme itself is often not within the jurisdiction of strong company departments that could enforce greater changes or introduce them to the company structure.
What is the solution?
Time is changing. The aforementioned barriers are often imaginary, or merely a question of attitude.
According to the CSR & Reputation Research 2016 survey, 68% of people are willing to pay more for environmentally friendly products. In the following study from 2017, the figure was 72% for people under 24.
At the same time, according to the study only 5% of employees do not take into account the (even ecological) responsibility of their employer. Furthermore, consumers are becoming more accustomed to buying new products and demand new services. These tendencies thus open up a great market potential for environmentally friendly products and services.
On the other hand, the emphasis given to this issue within companies is still genuinely insufficient. The circular economy needs to be considered as part of the transformation of our entire society.
Part of the transition to circular business is changing the supplier-client relationships, a change of company brand or a change of the actual business model(s). It is especially important to involve all the important parties.
However, above all it is necessary for the top management to take over this agenda.
Market barriers, or high input costs and low price of primary raw materials
The biggest market barrier is a high costs of the transition to circular business. It is necessary to purchase new machinery, storage areas, to negotiate new contracts and introduce other, often fundamental changes.
At the same time, many companies are worried about their limited competitiveness during the transition period to another business model. Therefore they prefer to wait until the path is forged by someone else and the utilisation of secondary raw materials becomes a commonplace matter.
Another great obstacle is allegedly obtaining actual secondary raw materials from recycled sources, that are at the same time competitively priced compared to primary raw materials. Another frequent issue is the fact that a firm that wishes to make changes in the supplier-client chain today has to go through a complex process of seeking partners.
What is the solution?
Transition to a circular business model is linked with investment, that usually does not exceed the standard investment required when transitioning to a different business or production model.
Furthermore, there is currently no tool in the Czech Republic that would make it possible to use secondary resources cheaply and effectively. The solution is a combination of bilateral agreements with an option for the purchase of a specific quantity of secondary resources.
That is also one of the main arguments why to be the first to start this journey: those who are first on the market have the best opportunity to secure long-term contracts and build a good position on the secondary resources market which will be increasingly difficult for those following in their footsteps.
In regards to low prices of primary commodities barriers – it is necessary to view the price of raw materials as a fundamental input for manufacturing companies from two perspectives:
Total prices for a given commodity, expressed by the trend component, showing long-term development.
Cyclical elements that show long-term fluctuation around the trend.
As shown by the International Monetary Fund (IMF) graph, that covers the prices of all main commodities, the prices of primary commodities are increasing – but it is mainly their cyclical elements that are increasing.
Geopolitical instability, raw materials mining in risk countries, the return of protective customs policy and the extractability of resources combined with growing demand mean price increases, a great uncertainty of supplies and difficulty to predict prices. As a result it is especially important to have a stable supplies of secondary raw materials. And if possible to also return products to repair or recycle them in order to ensure a closed cycle.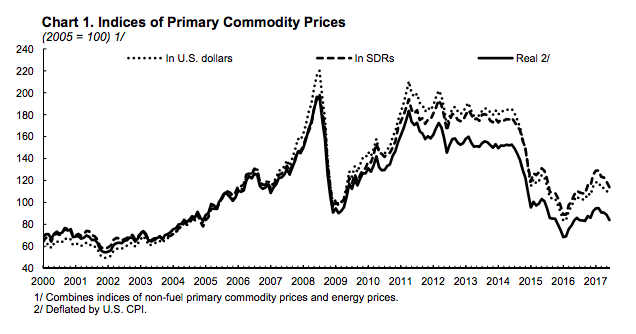 Source: IMF, Primary Commodity Prices
Technological barriers, or unavailability of suitable technologies
In this area the greatest problem appears to be the poor availability of new technologies and their high acquisition costs. Another obstacle is the lack of cooperation between business and the world of science and technology, primarily universities and research institutions.
Demands for the product made from recycled material or a repaired product to be of the same quality as an original piece is also one of the barriers preventing development.
What is the solution?
It is possible to develop a suitable technology for a specific manufacturing or recycling process internally or externally. If research and development is not linked with the main production activity, an external solution is recommended.
Here it applies that the researchers need a clear assignment from the business in question. It is also possible to utilise the services of technological scouting to seek an already implemented solution.
It is evident from practice that technological solutions are available and do not have to be demanding in terms of investment. However, companies are not sufficiently informed about them. Nevertheless, several partners currently offer assistance, be it CzechInvest, regional innovation centres or private subjects.
Principles of the circular economy do not have to be applied at the expense of final product quality or company profitability. It is necessary to find a suitable technology, and prove by various tests that the quality of the product has not been affected. Only then it is possible to make a qualified decision on possible changes to production.
Regulatory barriers, or rules anywhere you look
A wide range of manufacturing procedures, products, sales channels and handling of products are bound by a certain type of regulation. An example is handling prepared food in restaurants, where the law says that the prepared food must be either sold or disposed of within a certain time period.
Waste management is generally an extremely regulated area. That is naturally a fertile ground for the waste lobby of interest groups, that promote hierarchical waste management. At the same time it applies that the prices of certain raw materials are artificially maintained at the expense of others.
What is the solution?
The goal of the business sector must be to exert long-term pressure for the introduction of specific measures in the field of circular economy. Introducing principles of the circular economy is one of the priorities of the European Union for the upcoming years, and the Czech Republic is currently also planning not stay behind.
A strategic framework is currently being negotiated, which would turn the Czech Republic into a circular economy by 2040. At the same time, an amendment to the Waste Management Act is being prepared. It should penalise environmentally unfriendly approach to management of resources.
In order to cope with regulatory barriers it is necessary to have an overview of the current legislative order, but also to look further. Inter-sector cooperation of several partners and transparent communication is the best weapon in the battle against the particular lobby interests.
Barriers will always exist. But for every problem there is a solution.
Good news is that none of the above-mentioned barriers is unalterable or impassable. Every barrier requires an individual analysis and closer examination in the context of the company or local authority
And what is next?
After analyzing the barriers, it is time to consider which principles of the circular economy will best fit the company activities. A significant driving force should be securing materials for one's own business and the future generations.
Being among the first to perfectly adopt these principles is a great business opportunity.
This article was published in the magazine Odpadové fórum.