Brno here we come! We are gearing up to the 61. Annual International Engineering Fair – the most significant industrial fair in Central Europe. It will be held October 7-10 at Brno Exhibition Center. One of this year's key topics is the matter of our heart – circular economy. So of course we could not miss it. In cooperation with INCIEN and Renards we bring you a week full of amazing program. See you there?
The fair itself starts on Monday October 7. Throughout the week you will find us in our shared base, read: modular workroom from KOMA company. Come see us and we can talk about your business, how to move it forward or just about what's new in the world of innovations.
This year's biggest event on circular economy is undoubtedly Thursday's international conference called Czech Republic as Circular Hotspot. This all-day conference will focus on successful circular examples from the Czech Republic and abroad. OECD representatives will zoom in on global trends while the local successes will be introduced by Czech businesses that are way ahead in applying circular principles. Our Performance Leader Josef Dvořák together with a representative from LINET will introduce our joint project SafetyMonitor – unique alarm system that opened the door into digital business for this engineering company. Afternoon program will see a big premiere for the new Circular Czechia 2 study, that we are publishing together with INCIEN and JIC. It follows a successful fires edition from 2018 and will be officially launched by our CCO Petr Šídlo. Entry to the conference is included in the fair ticket. The space is limited so please register here in advance. Here you can take a look at the full program: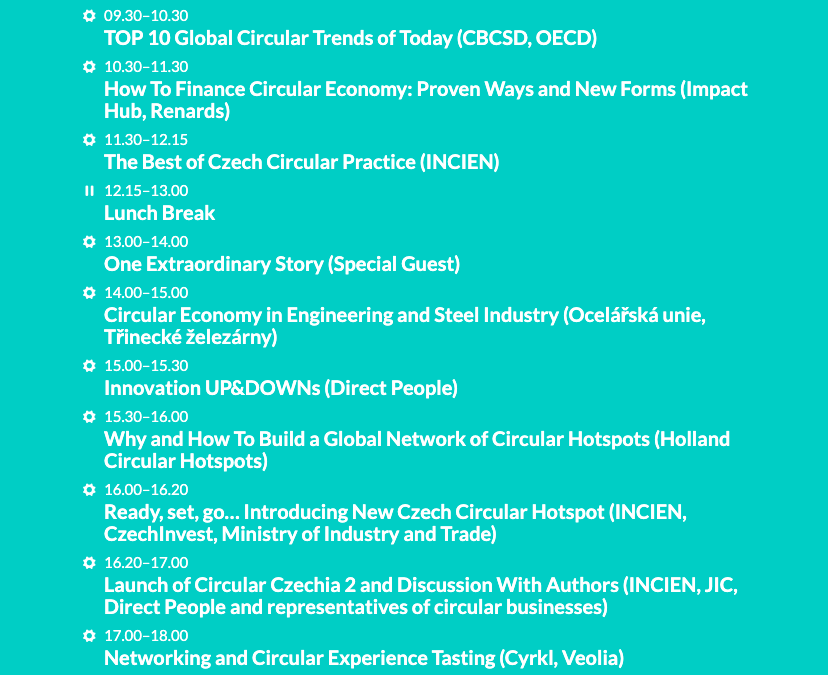 The conference is followed by Circular Economy: What's in it for us? workshop, led by our Innovation Leader Cyril Klepek and afternoon round tables on Thursday.
We are packing our Brno-Prague vocabulary, buying "šalina" tickets and heading to the biggest fall event. See you in Brno?